Should you give away marketing stickers?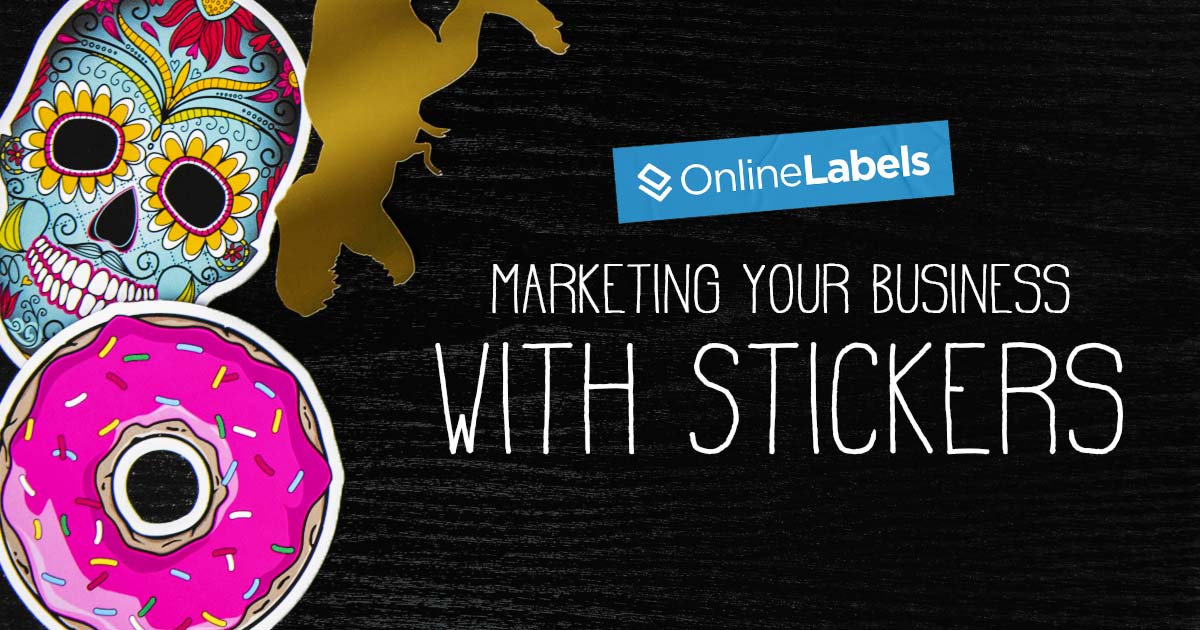 The allure of a simple sticker motivates kids to do their homework, ace every dentist visit, and more. But do adults value stickers the same way? If so, are brand stickers a good move for your business? Here, we explore the benefits of marketing stickers and dive into various design and distribution methods to hype up your brand.
Benefits of Sticker Marketing
Stickers are one of the most effective forms of marketing out today. While social media and online ads are equivalent contenders, sticker marketing offers unparalleled, offline benefits.
Easily Made
Stickers are easy to create and produce. The possibilities are endless and they're bound to be fun for your customers! Consider your options:
Shape: Find the right shape from our selection of rectangular, round, oval, or square labels. We also offer specialty shapes for fun occasions and messages.
Cutting machines: Cut your own shapes from sticker paper with an electronic cutting machine. Popular models include the Silhouette Cameo®, Cricut Explore®, or Brother Scan N Cut®.
Material: Search labels by material for a gloss, waterproof, or colour material that meets your needs. Pro-tip: avoid clear materials for stickers that will show up on any surface.
Size: Choose a size that matches your intended use. A sticker intended for a motorcycle helmet probably needs to be bigger than a notebook sticker. Shop by size.
Incredibly Cost-Effective
Stickers are comparatively cheap compared to other swag like t-shirts, pens, or socks. This empowers you to give them away plentifully! A small investment can turn into a large return. Look at Reddit, for example. They started with a $500 sticker advertising budget and the slogan "Please sticker responsibly!" Now the company is valued at $3 billion.
Uniquely Personal
Even in this digital age, you can never underestimate the power of human connection. When someone adds your sticker to their laptop, water bottle, or backpack, they're showing their support for your brand. They're not afraid to rep your company and this long-term, personal endorsement speaks volumes. Ninety percent of people trust recommendations from people they know.
Effortlessly Shareable
Popular places to place marketing stickers include:
Laptops/computers
Backpacks
Sidewalks
Walls
Ceilings
Windows
Doors
Water bottles
College campuses
Guitars
Posters
Windows
Work desks
Cell phones
Backpacks
Notebooks
Skateboards
Products
Refrigerators
Restrooms
Mirrors
Note: Use stickers responsibility. We do not condone the use of stickers to deface public or private property.
How To Design An Effective Sticker
Design plays a critical role in the effectiveness of a sticker marketing campaign. But while the design should look good, it also needs to be functional and provide value. Use the following tips with our free design tool, Maestro Label Designer, or check out our pre-designed label templates.
Here are three things to consider when laying out your sticker design:
1. Create A Call To Action
Inspire fans to take action with your sticker! Decide what you'd like to accomplish with your sticker then match your CTA to your goal. Here are examples to get you going:
| Goal | Sticker CTA |
| --- | --- |
| Increase brand awareness | Post a photo of your sticker on social media |
| Gather email newsletter signups | Text/email for a discounted first purchase |
| Increase overall sales | Use this coupon code for a percent off |
| Increase online store traffic | Shop now via a QR code |
| Help customers connect to wifi | Print your wifi network & password (great for coffee shops, hotels, and more!) |
2. Keep It Simple
Identify the one or two elements that will bring the most value to your business and build that into a visual design that appeals to your customers. Keeping your sticker hyper-focused on your brand identify and your intended purpose will bring you the most success.
3. Consider The Location
Are you hoping stickers end up on laptops and cell phones or street poles and trash cans? Think through the final use as you're designing the layout and messaging. This will determine everything from the size of the sticker to the material you decide to use.
Creative Ways to Distribute Stickers
Stickers can end up almost anywhere and can be placed by you, employees, and loyal customers. Whether they end up in a static spot like a telephone pole or a mobile location like a laptop, your stickers can generate innumerable impressions throughout the day. Get customers excited about your brand with these fun sticker giveaway tactics:
Trade stickers for email addresses, social media follows, or online check-ins
Hand out stickers at events like farmer's markets, expos, trade shows, industry conferences, sporting events, and races
Include stickers in swag bags
Mail stickers in your order packaging
Have employees give them out to friends and family
Leave a sticker every time you leave a tip
Replace traditional business cards with personalised employee stickers
Post a sticker giveaway contest on Facebook, Instagram, or Twitter
Place stickers next to food samples, utensils, etc at food truck pop-ups, grocery stores, and festivals
Advertise upcoming events with stickers instead of flyers
Give sticker swag to your employees at company events and retreats
Stick on your store entrance doors
Sell Them
If your sticker distribution booms, start selling your stickers. At the low cost of production, a couple dollars per sticker could bring in substantial profits. Companies like Foodnited and Ron Jon's sell coveted stickers. These can be great "gateway" purchases to rope in future customers, too.
---
Stickers are a great marketing tool, one we encourage you to test out for your business. Learn about other marketing techniques in our Label Learning Centre.
---