From Etsy to Self-Run: Should You Host Your Own Online Store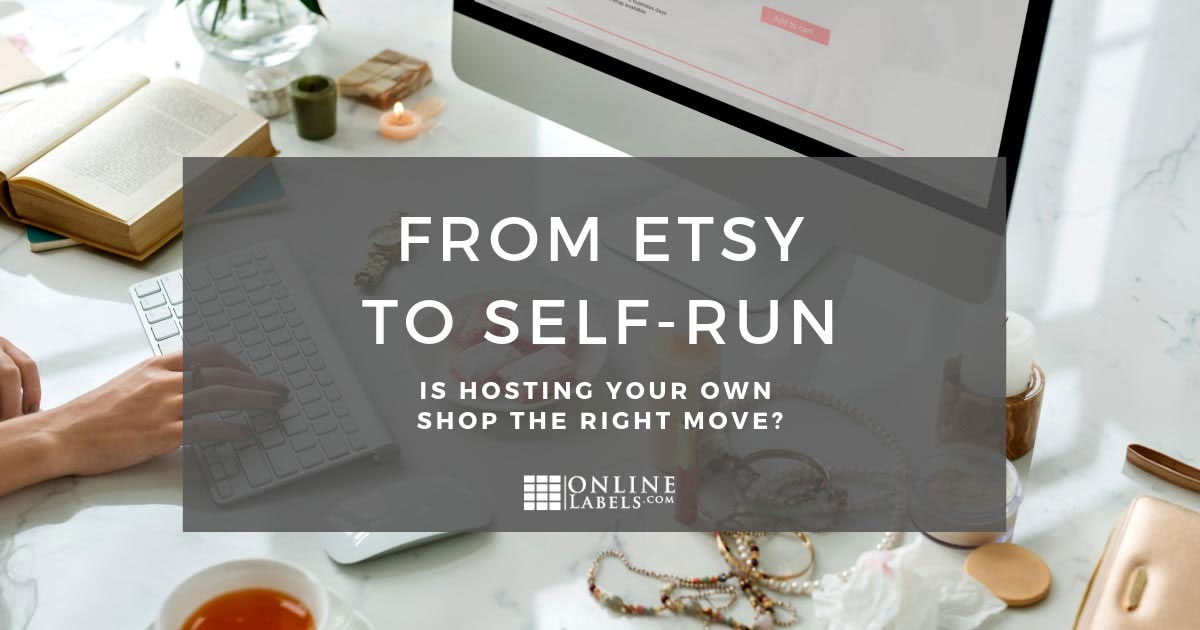 Etsy is a great place to launch your online small business and start to build a client base. However, it might not be a long-term solution depending on your business goals. Etsy charges a transaction fee, listing fee per item, and monthly payments for the optional Plus and Premium packages.
If you're ready to manage your own webshop and brand with complete control over your marketing, customer relations, and more, it's time to decide where to set up shop.
Selling On Etsy
If you are still looking to build a following and improve your brand recognition, consider staying with Etsy. Etsy has a large amount of daily site visitors all looking for great products to buy. This is what makes it popular with many startup shops. It may benefit you to stick with Etsy until you have the brand recognition to transition to a unique online store.
Webstore Platforms For Your Small Business
Once you feel confident in your business, it might be time to manage your digital storefront, brand, and client relations yourself. It can feel daunting – there are so many DIY webstore platforms and payment gateway services to choose from. Where do you start? Which is right for your business' needs?
Keep reading for an easy-to-digest breakdown of your options.
Shopify
With over 500,000 active online stores, Shopify is one of the largest e-commerce platforms. Its user-friendly interface allows business owners with practically no tech skills to build beautiful, customised online stores. Shopify caters to small businesses just starting out, as well as large-scale e-commerce operations.
Shopify offers over a hundred shop themes and bonus: they're all mobile-friendly. Shopify also offers 24/7 design and tech support.
BigCommerce
Unlimited products, orders, file storage, and bandwidth is a lot to offer. BigCommerce, with its multiple app integrations and extensive marketing options, offers a wide range of features for its webshop plans. BigCommerce is geared towards small-to-medium sized businesses that are high-volume or planning to grow.
They also support multiple currencies and offer 24/7 web support.
Big Cartel
Big Cartel is a great option for small stores (1-20 individual products), rather than big e-commerce operations. It's perfect for a "just getting started" small business that needs simplicity. The platform is easy to use – you can get your store up and running within a matter of minutes – but offers a limited set of features.
Wix
Small businesses with less than 50 product-types often opt for Wix Ecommerce. The platform is simple and easy to use — just drag-and-drop content onto your storefront. The attractive themes and user-friendly technology allow you to easily build eye-catching webshops without the typically-required tech skills.
Squarespace
Squarespace offers modern webshops for small businesses that have simple e-commerce requirements. Inventory management, unlimited product uploads, coupons, shipping configurations, and email tools are among the many features offered.
If your business needs don't include integration of payroll, accounting, or other business management software, Squarespace is a feasible option at a lower cost than Shopify or BigCommerce.
Weebly
If you sell less than 20 product types, you might consider Weebly eCommerce. Similarly to Wix and Squarespace, Weebly provides an easy drag-and-drop webshop builder at a lower cost than Shopify or BigCommerce. Weebly's user-friendly interface enables even the un-techiest to build eye-catching webshops.
Payment Tools
Once you've chosen your webstore platform, you'll need to decide which payment gateway service works best for your business. Most webstore platforms work with a few set payment systems, so you might not be able to choose, but you should be informed so you can select the best provider for your needs from the options available.
Here's a breakdown of the most widely used payment gateway services:
Amazon Payments
Processing fee + authorisation fee per transaction.
No setup costs or monthly fees.
Onsite checkout process.
Authorize.net
Percentage and individual transaction costs.
Recurring monthly charges.
Onsite checkout process.
Customers can pay using any major credit card or PayPal.
PayPal
PayPal Standard is available in 203 countries.
Percentage and per transaction costs.
No setup costs or monthly fees.
Checkout process is handled externally.
Stripe
Percentage and transaction fees.
No setup costs or monthly fees.
Onsite checkout process.
Customers can pay using any major credit card.
Accepts payments anywhere: in-store, mobile, online, invoicing.
Square
Percentage and individual transaction fees.
No setup costs or monthly fees.
Onsite checkout process.
Customers can pay using any major credit card.
Accepts payments anywhere: in-store, mobile, online, invoicing.
Additional Selling Platforms
If you're not ready to manage your own webstore but want to branch out with your selling platforms, consider selling your merchandise in a few additional locations.
In addition to Etsy, a few other major marketplace contenders to consider include: Amazon, Amazon Handmade, eBay, Bonanza, and CafePress.
Expanding into new point of sale opportunities helps your business and client base grow while testing what works for you. Before you're ready to invest in an online store, you can ramp up business through an online marketplace.
Once you've tested the waters, drive your loyal customers to your new e-commerce storefront. Then you can collect customer information and expand your marketing strategy and brand.
For a breakdown of pros, cons, price, etc., of the major marketplace platforms available to you, take a look at Where Should I Sell My Products Online?
---
You now have a guide to the top webstore platforms and payment gateway services. Consider your costs, and talk with your peers about their experiences using these services. Then, take a look at your business strategy and select a platform that meets your needs with room to grow.
Growth is great, but it can also come with unexpected expenses. Set appropriate financial expectations when expanding.
Need dispatch labels for your online business? Shop shipping labels.
---