How to Spice Up Your Small Business Blog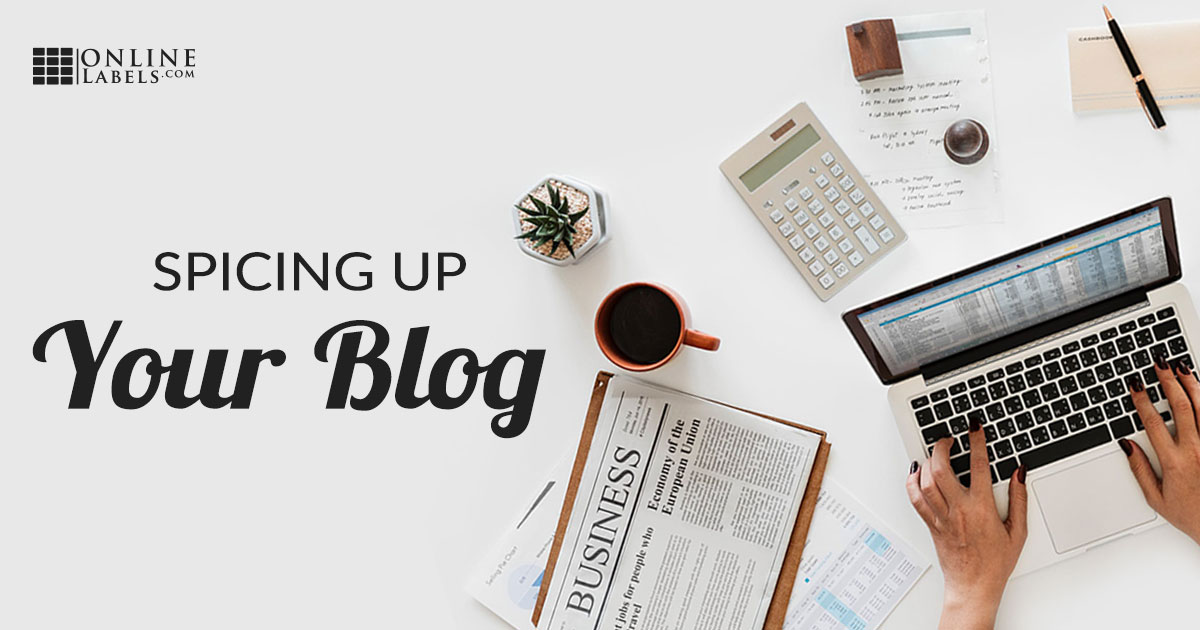 Your website speaks volumes about your company. If you have a stale or dwindling blog, you may lose consumer trust, web traffic can drop, and readership or engagement might decrease. But keeping it fresh doesn't have to be difficult! Here are a few easy ways to spice things up and keep your reader's attention.
Add photos and graphics
If you're not currently using photos with your content, you should start! Selecting the perfect image and finding the right place for it in your article can provide a better reading experience for your audience. Images and graphics not only break up the text, they also help drive home your content.
They can also help you set the tone of your blog posts. Serious photos versus funny ones, illustrations versus photographs, etc. can all help readers gauge the feel of your article before they dive in.
It can be the thing that draws them in, too! Photos are eye-catching in eblasts, social media posts, and more. Creative imagery can be what catches their attention and interest.
How to get started
If you have the time and skill, create your own blog imagery. Take your own photographs, use a library of stock images, or use platforms like Canva to make something.
Go off-topic
Sometimes the best way to spice things up is to get out of your comfort zone and try something new. Switch this up and go off topic on your next blog post. Giving your readers something they aren't expecting could surprise you. Be sure to ask for feedback so you know how to move forward after the fact.
How to get started
Write about your own experience as a small business owner, detail a unique experience with a customer, interview an expert in your field, talk about upcoming plans for your store, or recommend a book you read that offered fantastic business advice. Find things that are loosely related to your business and grasp onto that. Your readers are people too and we all relish the opportunity to see the people behind the brand.
Use social media
Share your content on your social channels, and let users share it for themselves! Make sure you're posting and promoting each new blog post. You can even bring back old blog posts that perform well or might be helpful to newer followers.
Consider finding a plugin or blog platform that includes links/buttons for easy social sharing, too. This will encourage your readers to share content they find relevant – giving you a good idea of what works while simultaneously growing your reach.
How to get started
Sites like Wordpress have auto-post options to help you take the stress out of doing both tasks. You can also plan out your content and use social media schedulers. That way, you can set it and forget it.
Create seasonal articles
Think ahead and incorporate seasonal change or holidays into your blog posts. Christmas and the first day of Spring, for example, are popular occasions to offer special deals or discounts. But it's also a good time to advertise relevant products and services, offer advice, or provide support.
How to get started
Couple your holiday well-wishes or seasonal greetings with some helpful information or interesting anecdotes. Detail information about a product or offer insight into your brand. Talking about silly holidays like National Ice Cream Day is another fun way to engage readers.
Make short catchy lists
People can be lazy, and our attention span is getting shorter by the minute. Something short and catchy, like a Top 10 list, is easy to read, write, and share. They'll grab your reader's attention and can bring more traffic to your blog.
How to get started
Draw up lists for just about anything – your favorite products, best tips for using your products, most incredible customer reviews, etc.
Refine your keywords
If you're not seeing the readership you want, take a look at the keywords you're using in your blog posts. You can boost traffic to your blog by using search engine optimisation (SEO). Remember to not overload your posts with terms, though. Too many keywords will dilute the content of your blog and can look spammy to both readers and search engines.
How to get started
Do some research to find out which keywords are likely to drive the most amount of readers to your blog. Then put pepper them throughout the first 300 characters of your blog post, within the body of your article, and near the end of your post.
---
Successful blogging has a lot to do with presentation and tone. If you want your blog to get more traffic, engage your audience, and bring in new business, start by creating exciting and interesting content. If you're tired of hearing crickets on your business' blog and are ready to boost engagement, the ideas listed above should help spice things up!
---