5 Easy Ways To Save Money On Product Packaging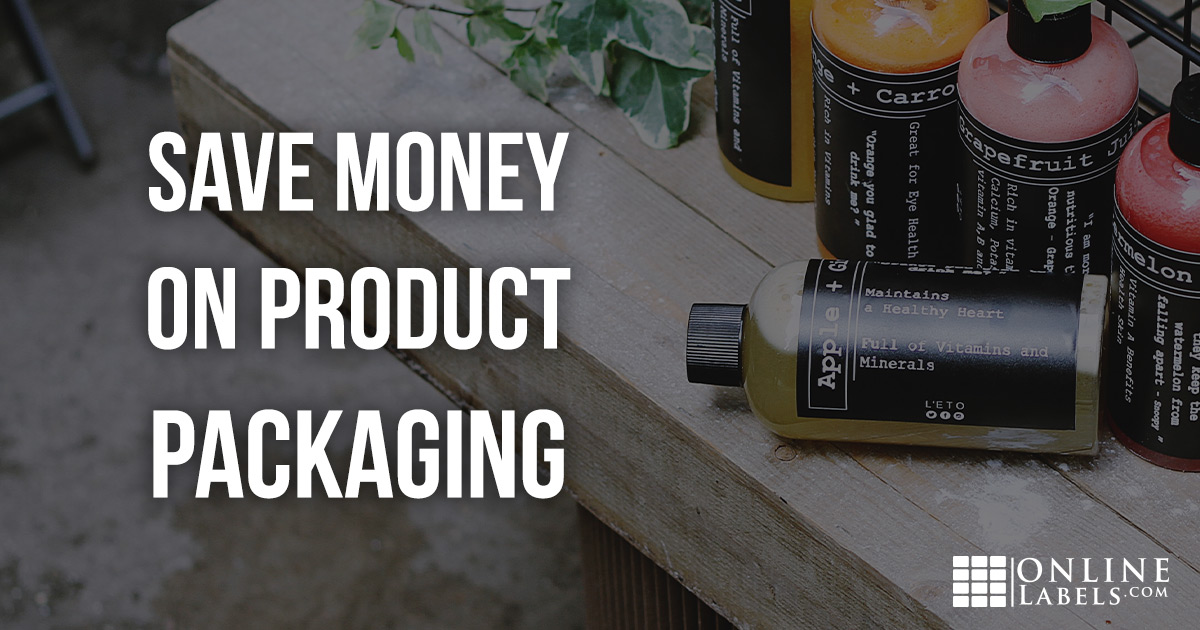 There's a lot that goes into starting and running a business. It takes dedication, tenacity, passion and, of course, money.
From advertising and bookkeeping services, to product testing and the product itself, the obvious expenses are big and add up quickly. There are many places to look when it comes time to reduce costs. In this article, we're going to focus in on one of the most important areas where cutting back can make all the difference.
Here are five easy ways you can save on your product packaging.
Consider Why You're Packaging Your Product
It's easy to get caught up in the details of designing a product package – from the logo and artwork to the placement of the barcode. But what may be easily overlooked is one of the main reasons you may be using packaging in the first place. Protection.
Consider everything your product will go through before it lands in the hands of the consumer. Shipment. Harsh weather. Think about the type of place your product will sit until someone purchases it – an air-conditioned shop? A humid warehouse? In direct sunlight?
It may also be a good idea to notice how similar items in the market are packaged. What have you noticed about their packaging? Did it protect its contents and was it easy to open? The last thing you want is a frustrated buyer who had a difficult time opening the product, only to find it was also damaged.
All these things should play a role when deciding how you'll package and protect your product. You'd be surprised how much money you'll save in the long run when you do the research and testing ahead of time instead of waiting for issues to arise.
Avoid Over-Packaging Your Product
Other than the obvious fact that more packaging costs more money, over-packaging your product can be a big turnoff for many consumers. According to a Pew Research Center survey, a whopping 75% of adult Americans are concerned about helping the environment throughout their daily lives.
So here's a scenario if they were acting on protecting our planet: if it came down to purchasing a bar of soap with elaborate packaging — complete with a box, shrink wrap and informational paper insert — or a bar of soap with a simple wrap-around label, chances are that (environmentally conscious) people will most likely purchase the latter.
Of course, that's not to say an environmentally conscious consumer won't purchase a beautifully packaged product. But if you're looking to save money and potentially make more sales, studying your market and knowing your consumer is key.
The lesson here: don't worry too much about unnecessarily over-packaging a product. Less is more.
Research Government Standards Ahead of Time
This may be one that'll save you TONS of money and time.
Picture this scenario.
You've found the perfect packaging. You've ordered a whole bunch of boxes for your product. You love it, it's perfect. That is until you find out there are regulations that you need to follow for packaging that product.
At this point, not only have you spent countless time and effort in meticulously packing your product, but you've spent all this money on materials and resources that have now gone down the drain.
Avoiding this is simple.
Before even considering packaging options, research if there are any packaging regulations you need to follow for your product. So whether you're packaging food items or creating candles, make sure you know what the rules are. The government and your wallet will thank you.
Don't Buy in Bulk if You Don't Have To
OK, so it's true. You do end up saving tons of cash when you buy anything in bulk. You know, "The more you buy, the more you save." This is pretty standard in B2B and can be a big money saver.
But if you have a small business or are just starting out, don't feel that you need to buy 1,000 boxes just because it's cheaper to do so – especially if you don't need that many to get started. This is just like extreme couponing. Sure, you may end of saving a large percentage when you buy 35 jars of mayonnaise. But do you really need that many?
To start off, consider spending a little more per unit and buy just 100 boxes. Do some testing and see how it goes. You may find what you thought would work for your product ends up being a total fail for whatever reason. Or you notice the quality of artwork printing is just not as great as you imagined.
So don't be afraid to start small until you know what works. At Online Labels, most standard products can be purchased with no minimums – meaning you can start with as little as one sheet and scale with your business.
Buy the Exact Size Box You Need
There are so many areas in which you can save if you make sure you use the right size box for your product. A box size too big can:
Cost more per unit
Cost more to dispatch
Cost more to print on
Cost more to cushion
---
Measure your product to determine the size box you need. You can even consider ordering bespoke size packaging, if necessary. See what your options are, shop around with different companies to compare pricing, quality, etc. You will be glad you did.
And when it comes time to purchase labels for your packaging, smaller boxes means smaller labels – and that means more labels per sheet and more savings!
To learn more about product packaging see, "Product Packaging: From Concept to Completion." And to view our full library of labelling and packaging how-to blogs, visit the Label Learning Centre.
---