How To Start A Sticker Business [Startup Academy Featuring soosanmoo]
Welcome to Startup Academy by Online Labels. We're talking to industry professionals to get the inside scoop on starting home-based businesses.
In this episode, the founder of Paperoo Studio shares her tips for starting an online sticker business. Continue reading to hear directly from her.
Hi everyone, my name is Susan, I go by soosanmoo on YouTube and all my social media. I am the owner of Paperoo Studio and today I have partnered with Online Labels Startup Academy to show you guys how to build an online sticker business right inside your own home.
I do want to preface this by saying that I am not going to be walking you through any of the legalities of starting an online business. I am here just to talk about the other logistics of creating an online business.
Let's get right into it. To start an online sticker business, the obvious thing you need to do is to have stickers to sell. But before we get into actually drawing out the stickers, there's a lot of logistics behind the scenes.
That includes figuring out your target audience, what stickers you want to make, the type of materials you want to print your stickers on (or what third party to use if you're outsourcing the printing), how you're gonna deliver your product to the buyer, and what shipping materials you need.
Step 1: Choose Your Stickers
Let's first talk about the stickers that you want to make. Are you trying to make bumper stickers, planner stickers, or decorative stickers? There are a lot of different types of stickers in the sticker category, so you need to figure out what type most appeals to you.
Lots of customers use sticker paper to product their stickers. Try starting there.
Step 2: Find Your Target Audience
Figure out who your target audience is. I'm a bullet journaler (I have been bullet journaling for years) and I follow a bullet journaling community on Instagram. There, I found a need for planner stickers, so I personally create stickers for planners.
With my stickers, people can decorate their bullet journals, planners, regular journals – whatever – to make them more aesthetically pleasing while still being productive.
The great thing about the bullet journaling community on Instagram is that they are super helpful and supportive. They want to help out small businesses and passion projects, which is why it was a perfect target audience for my sticker business.
Step 3: Make Your Stickers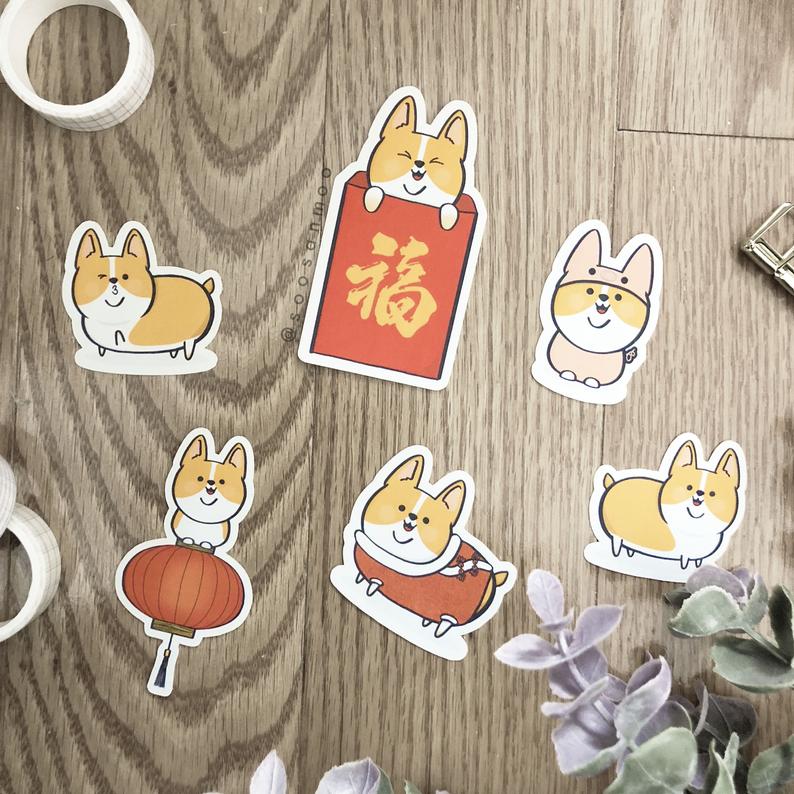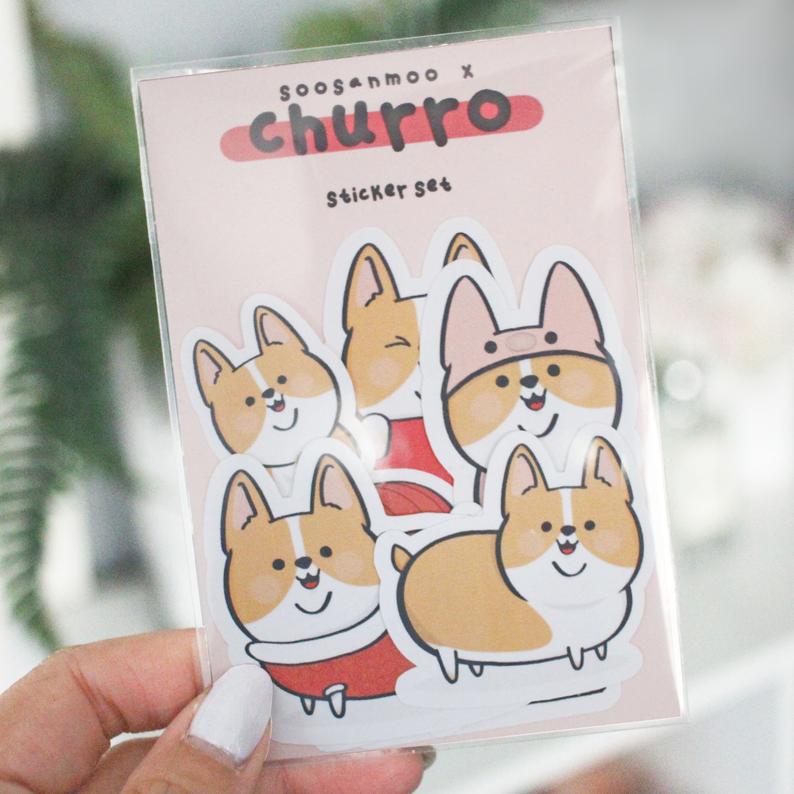 Now we need to figure out how to turn our stickers into actual stickers. There are quite a few sticker shop owners who create the stickers and then send it to a third-party company for printing and dispatching. For me personally, I like to do it myself, I'm a very hands-on person.
Pick Your Sticker Paper
I have had Paperoo Studio for about a year and a half now and I have run through quite a few different types of sticker paper. Ultimately, I have found and stuck with matte sticker paper from Online Labels because the quality is unlike any other. I really enjoy sticker paper from Online Labels because the quality is unmatched – it is super great quality at a very affordable price. I have gone through quite a few and let's just say it's the best one I've tried.
Choose Your Printer
Aside from the sticker paper, you also need to figure out the printer situation. I personally use a Canon PIXMA iX6820 and that has been a really great printer for me. I previously used a Canon PIXMA MX922. It served me for quite a good amount of time, it was a really great printer, but it died of old age.
Find An Electronic Cutting Machine
I use a Cricut Explore Air 2, but I don't think you absolutely need it to create stickers. They cost quite a bit of money to serve only one purpose. So if you don't have the funding for one, you don't need it. You can go in with just a pair of scissors and cut it out. It'll take a little more time, but it's not necessarily worth the investment.
Step 4: Sell Your Stickers
Where are you trying to sell your stickers? I started out on Etsy just because it's a great starter platform. Etsy is a website catered to small businesses that hand-make goods, so their website visitors are already looking for handmade items. The thing with Etsy, though, is that they take a percentage of your revenue. That's definitely something to think about.
I've also started selling on my website, but there's a lot more logistics this way than with Etsy. Etsy handles tax forms for you, but with your own website, you have to do that on your own. You also need to have a domain name. This is something you have to pay for monthly or annually. Another thing you need to figure out is how to turn your website into an ecommerce site.
Even with the additional logistics behind selling on your own website, I like having both platforms. It means my customers have an option of where they want to shop and ultimately complete their purchase. Consider if leaving Etsy entirely is the right choice for your business.
Check out this comprehensive guide on where to sell online.
Step 5: Decide On Shipping
You need to figure out which shipping carrier to use when you're dispatching out your products. In the United States, I've found that USPS is the cheapest shipping carrier. They have a rate specifically for thin, document parcels which is great and super cheap. USPS also offers international shipping if you live outside of the United States, you just need to do the research to find the best option for you.
Aside from figuring out your shipping carrier, you also need to figure out how you're going to make your shipping labels. I've tried out a lot of different shipping platforms, but Pitney Bowes is the one I use for my sticker shop. Etsy has a shipping platform (they partner with USPS), Pirate Ship is another one (though you cannot make document parcels through their software), Pitney Bowes of course (the SendPro® Online Sending Solution is super great), and PayPal also has a shipping service available. But you do your own research to find the one that works for you.
As for packaging, I choose to use stay flat mailers instead of regular envelopes. I've found they prevent the stickers from bending. Quite a few sticker shop owners use regular envelopes to ship out their stickers, I just feel like when a buyer is buying my stickers they're also buying the experience. I also wrap the stickers in tissue paper and include a freebie inside the package. I want to make sure they have a good experience and to thank them for supporting small businesses like mine. Get advice on setting up a dispatch station.
Step 6: Create Your Designs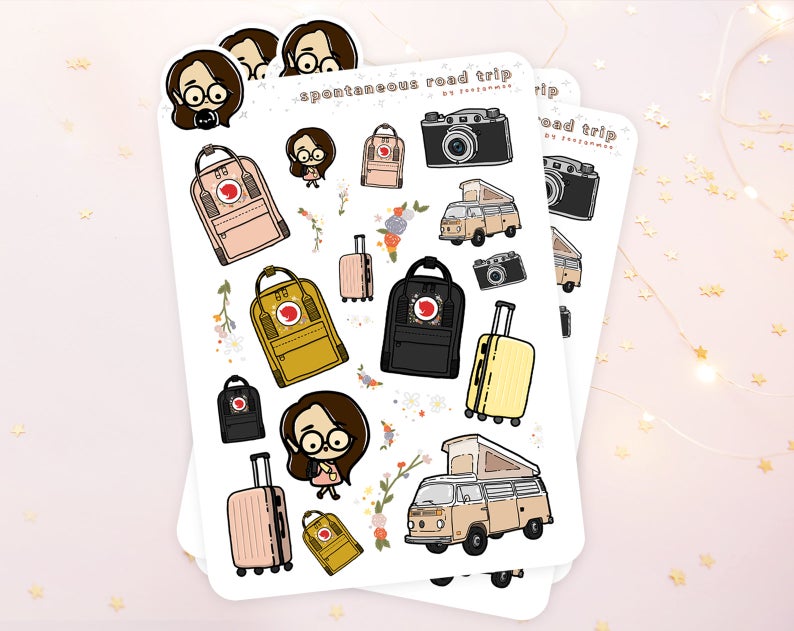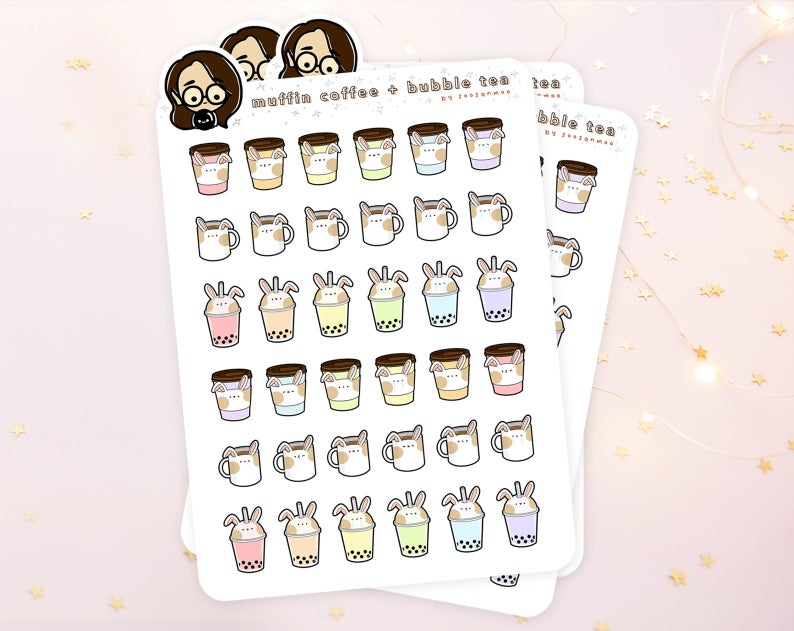 Now we get to the fun part of drawing out the stickers. I use a bunch of different mediums – sometimes I like to do it on pen and paper but I also use an iPad and Apple pencil.
When I like to go the iPad and Apple pencil route, I use the app Procreate. It's a very intuitive and easy application to use. It does cost money, but I think it's well worth it.
You do not need to have an iPad to draw out anything, though. You can most definitely do it just with good old pen and paper. To get that digitised, you can scan it with your phone and then import it onto your computer. To go hand-in-hand with my drawings, I like to use Photoshop on the computer. I arrange the sticker sheet so it looks aesthetically pleasing.
Step 7: Market Your Products
My very last tip for you guys is to make sure that you are marketing your product. You need to let people know that you created a product and you want to sell it.
I feel that the best and most affordable way to market your product is social media – it's completely free. I make videos on YouTube so people can see the process of how these stickers are made and how I use it in my journal. I also take pictures of my stickers and I show how I use them in my planner, which I post on Instagram. I make sure to add it to my Instagram Story and all my Instagram feeds. I always, always, always make sure to link back to my sticker shop so that people can purchase the stickers I make.
Find out how to market your products within Etsy.
---
I hope you guys enjoyed all of my tips and tricks on how to start an online sticker business, thank you so much for joining me today. If you want more tips on how to run an online sticker business, I've got just the channel for you. My Youtube channel soosanmoo has quite a few videos on how to run an online sticker business.
Please follow Online Labels for more Startup Academy videos. Once again, thank you so much for watching this video, I hope you enjoyed it.
---